Press Brake Long Forming
Up to 60' 2500 tons in Continuous Length.
At H.W. Metals, we not only specialize steel plate bending and forming, we operate one of the largest press brakes in the United States. We have two 30', 1250-ton Cincinnati Press Brakes, with CNC Auto-form, which allows us to run independently or in tandem. 
This massive, custom-designed machine gives us 2500 tons of force, 36" throat depth and a total forming capacity up to 60' in continuous length. By making large-size parts from a single piece of material, rather than welding or otherwise joining two or more smaller pieces, we are able to deliver a better quality product. It also reduces material requirements and reduces or eliminates the need for welding and other joining processes, leading to lower prices and faster turnaround times for our customers.
Our CNC-operated steel forming press brake provides perfect accuracy and repeatability, from the first part to the ten-thousandth. The size and range of our equipment, gives us all but limitless metal forming capabilities and our skilled staff brings an unparalleled attention to detail.  
Long Forming Equipment and Parts Photos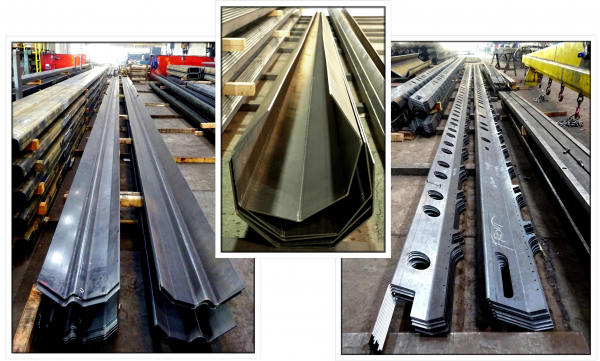 Long Forming Featured Links
For more information on how HW Metals can assist you with your long forming, follow the links, or give us a call.
H.W. Metals is your #1 domestic outsource option for full-service steel processing of all sizes, specializing in long…